Welcome To Lincoln County
Lincoln County named for President Abraham Lincoln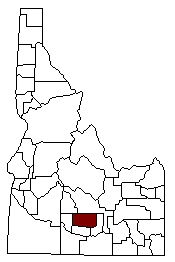 Oscar Verner Peterson gave his life in World War 11 and was awarded the Medal of Honor for actions in Battle of Coral Sea May 7 1942, died from injuries on May 13 1942 and was buried at sea is recognized and given grave marker from the Federal Government, Medal of Honor ceremony held at Richfield April 3 2010 at the Richfield Cemetery with a military rifle salute.
Chris Storey is the County Coordinator
Lincoln County was created on March 18 1895 from a corner of Blaine County formerly a part of Alturas County, which no longer exists. Gooding, Jerome and Minidoka took over half of the original Lincoln County and left Lincoln County only the North Central portion of the original area consisting of 1208 square miles. Lincoln County was named after President Abraham Lincoln, who's administration established Idaho Territory. The County seat is Shoshone and lies in the SW portion of the county by the Little Wood River, the UPRR, at the intersection of US 93 and US 201.
UPRR siding, BRADY named for James H. Brady (Governor of Idaho,1909-1911; US senator,1913-1918) 3mi. SE of Shoshone. DIETRICH, 7 mi. E of Shoshone on the UPRR began as a RR construction camp for the OSL, Post office 1906-.named for Frank S. Dietrich of Boise. Unlike Shoshone, there was no saloons within a 2 mile radius. DISNEY in SW part of county on the UPRR, 4 mi W of Shoshone, named for Frank T. Disney, state Senator (1921-1924) from Shoshone. KIMAMA, In the SE part of the county, 15 miles W of Minidoka, settled in the early 1900's and named by officials of the OSLRR, Post office 1886-1929. OWINZA 10 miles E. of Dietrich, A UPRR siding, Post office established 1916-1924.
Lincoln County includes the small farming communities of Dietrich, Richfield formerly named Alberta, named after Alberta Strunk, the first child to be born at the new town-site, and Shoshone formerly called Naples. Agriculture mainly hay, grain and Livestock. County mostly formed on desert and lava.
Early county land marks, Black Butte in the lava bed where Shoshone Ice Caves are located. Mammoth Cave located 1.5 mi west of State Highway 75 close to Shoshone Ice Caves. Notch Butte 3 mi S of Shoshone, remnant of a volcano. Sand Butte, volcanic cone situated 44 mi SW of Arco and 16 mi NE of Richfield. Spud Butte an isolated butte in a area of lava resembles a huge potatoe. Star Lake lies in the extreme S central part of the county and has 5 arms that suggests a star. Twin Buttes sits in the NE part of the county in broken lava beds, it consists of two distinct summits with a common base. Twin Oaks is in the NW corner and is the highest point in Lincoln County. It was named because of two similar oak trees.
In 1882 Shoshone was established in anticipation of the Railroad being built and coming through the vicinity. Over the years it became a major railhead and has served the community from transporting livestock, passengers, agricultural and commodities. Many of the original buildings still stand, made from lava rock. The jail one of the few remaining with flat iron bars. A boarding house that believes ghost spirits resides there and the County Court house built in 1904 with its original oak furniture.
On September 6, 2012 Shoshone was added to the Union Pacific's Train Town USA registry.
*Books to read*
100 YEARS TOGETHER by Lincoln County
THE HISTORY OF RICHFIELD, IDAHO by Behr and Ward
All materials contained on these pages are furnished for the free use of those engaged in researching their family origins. Any commercial use or distribution, without the consent of the host/author of these pages is prohibited. All images used on these pages were obtained from sources permitting free distribution, or generated by the author, and are subject to the same restrictions/permissions. All person contributing material for posting on these pages do so in recognition of their free, non commercial distribution, and further, is responsible to assure that no copyright is violated by their submission.
© 2006-2017 IDGENWEB - This web site was updated Jan 1 2018
Chris Storey 2010-2018